Getting Off the Grid: Diving in the Gulf of Thailand
Thailand is the epitome of tropical bliss: a country steeped in rich traditions, with mouth-watering cuisine and boasting miles of coastline speckled with postcard-worthy beaches. Just off the coast, the islands are the country's crowning glory. To the west, the Andaman Sea laps at the shores of the Similan Islands and strings of pearly islets stretch as far south as Malaysia. Meanwhile to the east, Koh Samui, Koh Phangan, and tiny off-the-grid islands offer some of the best diving in the Gulf of Thailand.
Many superyachts glide across the waters, depositing their guest on pristine sugary beaches. But with Dive Butler at hand, a Thailand charter can become an odyssey. Drawing on all the experience of our renowned experts, we can work with you to create an itinerary which will surpass all others. We will guide you to uninhabited islands, virgin dive sites teeming with life, and reveal a side to this magical country few will ever experience. With safety, impeccable service, scientific knowledge and an inspirational attitude, our dive butlers are the magic genies your superyacht charter needs.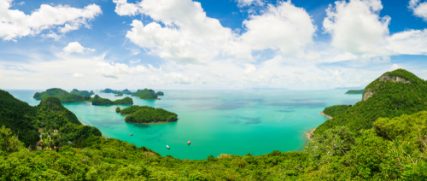 As part of our series on diving in Thailand and Myanmar, we head to the Gulf of Thailand to discover what underwater treasures await.
Koh Samui, Koh Phangan, and Koh Tao
Koh Samui, Koh Phangan, and Koh Tao are far from obscure. Renowned across the world for their tropical beauty, blossoming coral reefs, and above-water social life, the islands make perfect bases for superyachts to set off and explore deeper in the Gulf of Thailand. The diving around here makes every top 10 list, with sites such as Sail Rock, off Koh Phangan, considered the best in the gulf for whale shark sightings.
Hundreds of uninhabited islands swirl around the big three, and the diving here is first class. Those dreaming of coming face to face with whale sharks and manta rays are almost guaranteed to do so, while anyone seeking out tiny seahorses will leave satisfied too.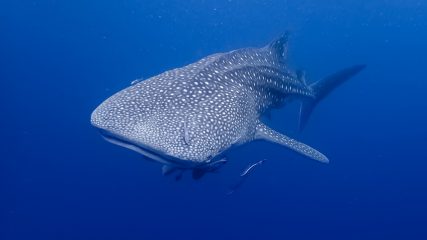 Ang Thong National Park
The choices are infinite. The Ang Thong National Park, best explored by canoe, offers incredible diving opportunities to those in the know (and we know!). Divers can explore the 42 limestone islands, where overhangs, caves, and swim-throughs reveal snappers, blue-spotted stingrays, schools of fusiliers and yellowtail barracuda.
Koh Kra
Koh Kra, some 70 miles (112 kilometres) south of Koh Samui, is easily missed as it is so tiny. Yet this rarely visited island holds diving opportunities unparalleled in the region.
Koh Losin
Further south, the remote and isolated Koh Losin, near the Malaysian border, is unmissable for its vast pinnacle. This is manta and whale shark country, and dives here are the thing of dreams. The chances of encountering another boat here are minute.
To truly get out and experience the secrets of the Gulf of Thailand, an experienced guide is an invaluable asset. Dive Butler has 50 years of combined experience of diving in Thailand and can seek out the most untouched, unparalleled dive sites for your guests. Our dive butlers bring with them knowledge of marine conservation, can teach courses on everything from photography to cave diving, and always create a safe, pleasurable and inspirational diving experience. Bring us on board and open up Thailand to your guests in a way they could never have imagined.
---