Diving with Sharks in Protea Banks, South Africa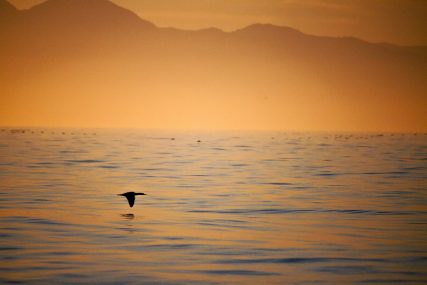 Dive Butler's staff have dived in some truly enviable places. All in the name of research, you understand. There have been trips to the twinkling blue seas of Raja Ampat, with their colourful corals and schools of pretty iridescent fish. There have been forays into the heart of the Pacific to far-flung paradises such as French Polynesia, where our team have been diving with sharksin jaw-dropping numbers. And then there have been visits to wild waters teeming with great hunters that get the adrenaline pumping.
Barbara Cesario, personal assistant to Alexis Vincent and an experienced diver herself, embarked on one such expedition, to the waters off the southern coast of South Africa. Alive with pelagic fish, this is big game country, the strong currents bringing with them plentiful food supplies. We begin at Protea Banks, as Barbara tells us of this unique and wonderful dive site.
Barbara on Her Best Moments Diving with Sharks in Protea Banks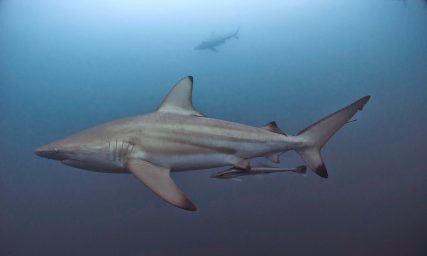 'If you really love sharks, then Protea Banks should definitely be on your dive list, says Barbara, who harbours an obvious passion for the great ocean hunters. 'They are truly magical,' she says with affection. Protea Banks has often been hailed one of the world's top destinations for diving with sharks.
Protea Banks lies some five miles (eight kilometres) off the KwaZulu-Natal coastline, just south of the city of Durban. The region is home to two large offshore reef systems accessible to scuba divers, the other being Aliwal Shoal. This is not diving for the faint-hearted, Barbara explains, for the currents here are strong and the reef starts at 92 feet (28 metres) and quickly descends to over 148 feet (45 metres). An advanced certification and a minimum of 20 logged dives are needed to tackle the dive safely.
While the depth and current may pose challenges, what will truly get the bubbles flowing at Protea Banks is its inhabitants. The Agulhas current brings with it a soup of nutrients, and with it shimmering schools of silvery tuna. And where there are tuna, there are sharks. Lots of them.
'Behind a massive school of barracudas, I could see five or six blacktip sharks darting in and out of my vision,' recalls Barbara of one of her most memorable shark encounters. 'They are beautifully marked and steam-lined animals who always seem to be playing hide and seek with the divers. They behave just like underwater puppies,' she laughs.
While it is doubtful whether bull (Zambezi) sharks could ever be compared to puppies, these powerful and graceful creatures are the most famed at Protea Banks. Along with tiger sharks and schooling hammerheads they arrive in the summer months and, according to Barbara, can be seen at the Southern Pinnacles on a rip-roaring drift dive.
Different Seasons Bring Different Visitors 
As the seasons change on this stretch of South Africa's coastline, different visitors arrive at Protea Banks. During the winter months of April and May, divers are treated to the spectacular sight of hundreds of ragged-tooth sharks (or 'raggies', as Barbara calls them). They seek shelter from the currents in two large caves at the Northern Pinnacles.
'Looking into the caves from above and observing the raggies interacting peacefully with each other is a special experience,' Barbara explains. 'You see them sleeping, lying at the bottom or simply swimming slowly around. It's beautiful to observe them; they are so peaceful and you feel you don't want to disturb them.' She goes on, 'I tried to be as quiet as possible, swimming gently at their pace. It's a really relaxing dive, I could have stayed there for hours.'
The congregations of raggies can be so large that often divers can't even see the sand between the mass of sleek bodies. 'They are not at all bothered by the presence of humans, as long as you don't get too close or invade the bottom and centre of their territory,' Barbara says.
The raggies shelter in two large caves at Protea Banks, both open at the top to allow for incredible viewing opportunities. Outside of raggie season, however, the caves lie empty and lure divers like Barbara inside.
'When there are no raggies in the caves, it is great fun exploring and collecting raggies' teeth, which are generally plentiful in and around the cave area. Divers are allowed to take these teeth as a nice souvenir and proof of a close encounter with the Raggies,' explains Barbara.
Learning to Respect the Ocean and its Inhabitants 
Bull (Zambezi) sharks roam the waters most of the year in search of food, yet the summer is when sightings are more common. Scalloped hammerheads, with their distinctive silhouette, swim up and down the reef from November to June, often in schools hundreds or even thousands strong. Barbara clearly feels nostalgic about this spectacle. 'What a sight it is when you see their silhouettes against the rays of the sun,' she says.
The line-up of sharks at Protea Banks is impressive. Up to 60 Giant Guitar sharks can be spied at Kingfish Gulley, as divers get swept along on the fairground-like current, and the great tiger shark is frequently spotted between March and June. Indeed, Protea Banks offers one if not the best non-cage shark diving experiences with the biggest sharks in the ocean.
There is no doubt that these dives are adrenaline-pumping but, as Barbara explains, there is no need to fear these majestic animals.
'It's all about respect,' she says of the experience of diving with sharksof any kind. 'Take the necessary precautions and always remember that this is their territory, not ours. You will see that they really aren't harmful if treated respectfully. To dive Protea Banks you need to love action, adrenaline, be a good diver and have a pure love for sharks.'
---