Diving in a Kaleidoscope of Colour in Raja Ampat, Indonesia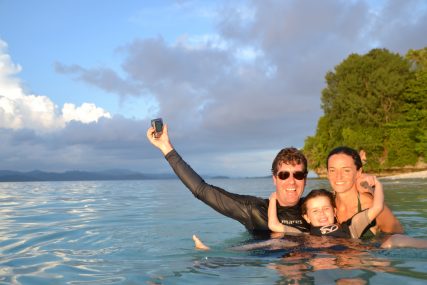 Claudia and Alexis, Life Butler's co-founders, have done their fair share of diving. All across the globe, they have dived some of the most astounding, unchartered and enviable places imaginable. From the frigid waters of British Columbia to the bath-warm waters of Raja Ampat in Indonesia, they have experienced rip-roaring drifts, bumped shoulders with schools of sharks hundreds strong and witnessed some of nature's most impressive underwater displays. In this series, they share with us with their most memorable dive experiences and their all-time favorite dive destinations.
Claudia Falls in Love with Raja Ampat
"Diving Raja Ampat was by far one of the best experiences of my life," says Claudia, a bold statement for someone who has dedicated their life to diving far-flung atolls. "We just couldn't get enough of immersing ourselves in the tepid, crystal-clear waters that surround this archipelago. On every single dive, we spotted something we had never seen before in our diving careers… and between Alexis and I, we dive a lot!" she laughs. 
Claudia and Alexis first encountered Raja Ampat's magic while accompanying Dive Butler guests on a luxury superyacht. "The superyacht was equipped with all the latest toys and gadgets, however, what the guests loved the most was hopping on the yacht's tender and cruising around the maze of lagoons and karsts," Claudia says nostalgically. "Sailing through its calm waters, we hardly encountered any other vessel. Every single day we had a private beach or bay all to ourselves. The kids were being little Robinson Crusoes exploring the landscape." 
Tucked away off the north-western tip of Bird's Head Peninsula on the island of New Guinea in Indonesia's West Papua province, Raja Ampat is a special place. The archipelago, whose name means Four Kings, comprises 1,500 sparsely populated, jungle-clad islands and cays surrounded by the clearest of turquoise waters. White-sand beaches, sheltered coves, and hidden lagoons await exploration. "Years later, if I close my eyes, I can still envisage the sounds of the countless species of birds, of the sight of marsupials with their big eyes hiding in the trees, and the insects and critters, all joined in nature's unbeatable concert" Claudia reminisces.
Raja Ampat is Nature at its Very Best
Claudia, Alexis, and their guests spent their days exploring the watery world of Raja Ampat, both above and below the gently lapping waves. "On one of our tender cruises, we were greeted by a pod of dolphins" Claudia remembers fondly. "To everybody's delight, they remained with us for a good 10 minutes, spinning and splashing in the water almost as though they were posing for a photo shoot. In fact, with every turn, the tender took, it was as though we were entering another wonderland. We switched off the boat's engine and sat in silence for what felt like a lifetime, just listening to nature's sounds."
If Raja Ampat's mesmerising and abundant nature stirred Claudia's senses, then the passionate diver was in seventh heaven as she led divers to one of the world's most pristine underwater environments. "If listening to the sound of nature was the balm for my soul that I treasure to this day, you can only imagine what it was like to dive here!" she laughs. Over 1,400 species of fish, 700 mollusks and more than 550 types of coral – 75% of all of those found in the world – thrive in these warm, unpolluted waters. To put that into context, the whole of the Caribbean is home to just 70 species of coral. 
"The strength of the current, bringing in constant nutrient-filled waters, attracts big schools of fish, as well as pelagics such as manta rays" explains Claudia of the region's teeming environment. "It also supports a thriving coral life. I have seen some of the most beautiful soft corals of my life here, with camouflaged critters hiding between their polyps".
The Greatest Coral Reef Diversity in the World
When scientists from Conservation International conducted the first-ever survey of the coral reefs around Indonesia's Raja Ampat Islands in 2006, what they found threw the islands into the scientific limelight. The level of coral reef biodiversity here was far greater than that of any other area within the famed Coral Triangle, which includes Indonesia, Malaysia, Philippines, Papua New Guinea, Solomon Islands, and East Timor. Raja Ampat suddenly became known as the richest coral reef ecosystem on the planet. 
The reef lies just below the surface where the Indian and Pacific Oceans collide, where deep-sea currents funnel nutrients into the food chain, feeding a spectacular diversity of marine life. Large groups of manta rays and white tip reef sharks congregate near blue-water drop-offs, and schooling jacks, barracudas, goatfish and angelfish combine to form a circus of colours. Pygmy seahorses, groupers and giant morays hide in the cracks and crevices and, come April to September, leatherback turtles arrive from their migrations across the Pacific to nest on the West Papuan beaches, the largest site in the Pacific Ocean. 
Divers swim past hard and soft corals in shades of pink and lilac, fiery orange and deep green, which sway like giant fans in the currents or grow razor-sharp in rock-hard formation like great elk horns. Amid the blue tube sponges, red sea whips and purple sea squirts, the bizarre-looking and masterly camouflaged wobbegong shark can be spied, while titan triggerfish can be seen chomping on the hard corals. "I remember I shined a light on what looked like a pinkish soft coral" Claudia recalls. "But as I took out my magnifying lens I saw it: a pygmy seahorse. It was perfectly blended in shape and colour with its host as if it was one of its tentacles. I felt myself breaking into a humongous smile, which isn't easy when you have a regulator in your mouth. That picture is imprinted in my memory as if it was yesterday."
Night Diving
When the hot Indonesian sunset on a balmy evening, the night diving turned out to be just as awe-inspiring. "The night diving took my breath away," says Claudia. "Wherever I pointed my torch, the reef was transformed into a rainbow of vibrant colours, and there in front of me was a creature new to my eyes." 
Raja Ampat's biodiversity is staggering, and at night a whole host of new creatures venture out. Claudia reels off a list of some of the weird and wonderful inhabitants they encountered. "There were giant clams the size of my dive buddy, parrotfish sleeping within their mucous cocoons, wobbegong sharks, crocodile fish, blue-ringed octopuses, pinnate batfish, frogfish and harlequin shrimp, just to name a few."
Claudia confesses that she typically prefers night dives to be on the shorter side as she tends to get cold after around 45 minutes. Yet in Raja Ampat, any thoughts of chilliness were quickly forgotten, as the magical scene hypnotised her. "Time flew by and we dived for 75 minutes, and at the end, none of us could stop smiling out of pure joy" she recounts. "When we got back to the superyacht, the divers spread their enthusiasm to all the other guests on board. Needless to say the next night everyone went night diving!"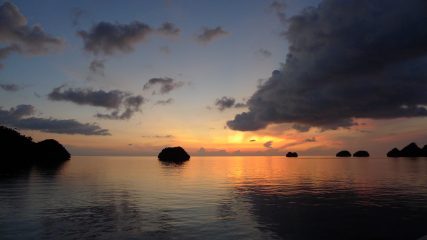 A Transformative Experience
Raja Ampat offers both divers and non-divers a nature-filled playground of undisturbed beauty and serenity. Dolphins and sharks can be spotted without even dipping a toe in the water, vast shells and giant seeds adorn the picture-perfect sandy beaches, and emerald waters shimmer alluringly under the sun. Snorkeling reveals some of the wonders beneath the surface while donning scuba gear allows guests to truly immerse themselves in this otherworldly environment.
"As the journey came to an end, we all felt we had lived a transformative experience" Claudia remembers. "Some of us had tears in our eyes as we made our way back to the airport, and we all knew we would be back someday. We feel that this is the essence of Raja Ampat though. It is about coming here and allowing yourself to leave your daily life behind and to dive into a kaleidoscope of sensations."
---