Diving in Palau: The Pearl of the Pacific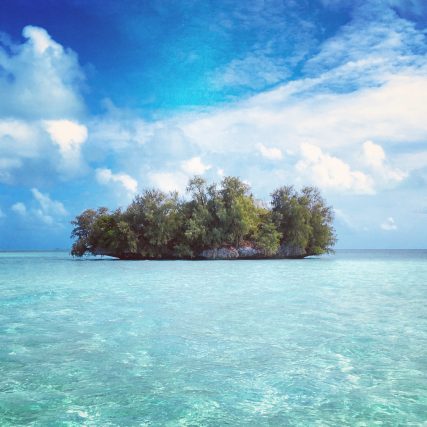 Alexis Vincent, Founder of Dive Butler, finds his diving utopia in Palau.
"Palau is much more than just a diving destination. It's like you're in heaven" enthused Alexis Vincent, Founder of Dive Butler. His excitement is palpable. "I have dived in a lot of places around the world, but the biodiversity and the sheer abundance of fish in Palau was outstanding".
Alexis is freshly back from his longest ever Dive Butler charter, 40 days and nights at (and under) the sea. It was also his first trip to the Pacific island nation of Palau. We sat down to discuss mating bump head parrotfish, World War I wrecks and Alexis' favourite topic, sharks.
"I would go back there tomorrow," says Alexis, before he's barely had a chance to get back on solid ground. "I haven't been that excited about diving in years. I was happy to be doing three, four, even five dives a day."
Palau is a tiny island nation buried somewhere alluringly in the heart of the Pacific Ocean. Hundreds of rock islands erupt like green-forested mushrooms from the clearest of waters where thriving reefs swirl below. The main island of Koror acts as the jumping off point to the natural wonders and emotive wrecks which lay beyond. It is a place where left-hand cars tootle down right-hand drive roads, where Japanese-influenced restaurants serve food in American-sized portions, and where friendly locals delight in getting tourists to sample the local delicacy of whole fruit bat soup.
Yet for superyacht guests in search of some of the most pristine and healthiest reefs on the planet, this is a prime Dive Butler destination. "There are so many different types of diving and different activities you can do in Palau" Alexis explains of his new-found love affair with this watery wonderland. Asked of his favourite, Alexis responds enthusiastically – the spawning dives.
Timed to perfection, just before dawn on a full and blue moon, fish arrive in their thousands to spawn. Alexis recalls two separate dives when Dive Butler guests, accompanied by Alexis and local experts, witnessed this incredible natural spectacle. "I got to witness the snappers and the bump head parrotfish in their spawning frenzy" Alexis explains. "There were 50,000 of them, spawning in upwards spirals, as though there were fireworks going off. The visibility was almost zero at one point" he chuckles. "Until that day the most amount of bump head parrotfish I had ever seen at one time was 20!"
The phenomenon attracts opportunists too. Sharks, Alexis' greatest passion, join the melee for easy pickings. "When the Moorish idols spawn in their thousands, only half make it out alive," Alexis says. "They head out into the blue as part of their mating ritual and lying in wait are vast numbers of grey reef sharks".
So where are these wondrous dive sites where the rarest of natural displays take place? I ask Alexis. "Ah ha," he says with a smile. "That is for us to know and our guests to discover when they embark on an epic Palauan superyacht charter". It was worth a try.
Realising I wasn't going to get Alexis to divulge these much-coveted secrets, we moved on to discuss the issue of conservation. Palau is famed the world over for its marine conservation efforts, and today all of Palau's mainly watery territory is a designated Shark Sanctuary. It is a pioneering move, the first and largest protected zone in the world, and a model for others to follow. Yet the flourishing reefs and breathtaking abundance of marine life are testaments to centuries of co-existence between man and the sea.
In much the same way fields are left fallow to regenerate and recover from heavy cropping, the people of Palau have long adopted a marine zoning system. "They don't fish certain areas to allow stocks to replenish"explained Alexis. "It is a fundamental part of their beliefs and has thousands of years of history".
The results are waters teeming with life. "You can dive and see manta rays at cleaning and feeding stations," Alexis tells me. "You can literally swim through walls of jackfish and barracuda". The biodiversity is astounding, with over 2,000 species of fish alone. Add to the line-up 300 species of coral, almost all of the species of tropical sharks in the world, eels three metres long, manta rays and dolphins. It is easy to see why Alexis is so enthralled.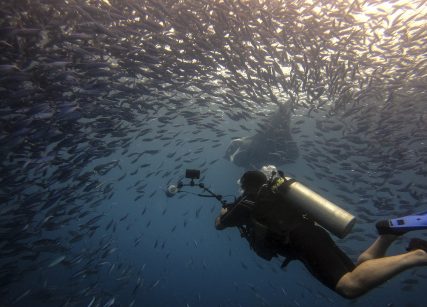 We move on to talking about his favourite dive sites and Alexis begins to reel them off, almost too many to count. Not a dive site list exists that doesn't rank Palau's Blue Corner as one of the planet's best, and according to Alexis, the ranking is justified. "Blue Corner is of course incredible for the sharks and manta rays" he enthused. "But also Siaes Tunnel and the Blue Holes for outstanding cave diving and photography opportunities. I also enjoyed Chandelier Cave where you can surface inside the cave, remove your mask and have a chat. And then there's Peleliu Express with its sharks and currents."
The island of Peleliu, located in the far southern part of Palau, was once the scene of one of the bloodiest battles of the Pacific during World War I. It is hard to imagine that such ungodly horrors unfolded amidst the natural beauty and tranquillity which it today exudes. Yet 12,000 Japanese and American soldiers lost their lives, and today the waters are littered with wrecks. "Many of the wrecks are not accessible to divers, as they are grave sites" explains Alexis sombrely. "But others such as the Iro and the Jake's Sea Plane are fascinating dives."
The 143 metre-long Japanese cargo ship the Iro, rests upright in 40 metres of water after being bombed by American forces in 1944 and makes for one of the country's top wreck dives.  The shallow dive to the Japanese seaplane is accessible even to novice divers. Relics of the great battles are everywhere in Palau, from the rusted machine guns resting in caves on isolated islands, to tiny fighter planes in shoulder-depth water.
"The diving in Palau can be challenging," says Alexis, "but it's not too challenging". Divers of all experience levels are guided by Alexis and his team, and there are ample opportunities to learn new skills, from reef hooking during drift dives, to cave or wreck diving. Under the expert instruction and guidance of the Dive Butlers, guests can choose to challenge themselves or stick with what they're comfortable with.
"Palau has so much to offer, even for non-divers," Alexis says. Gliding on a kayak between the rock islands over translucent water with turtles, sharks, and rainbow-coloured fish below can while away paradisiacal days, or guests can clamber onto the islands to see World War I relics, eerie lagoons, and endemic plants and birds.
"The geological formations of the islands are fascinating" explained Alexis. "Palau was once one solid island and when the waters rose it created this landscape of hundreds of islands. There was an 18 to 20 metre difference in sea level." Of the many impressive geological formations in Palau are the marine salt lakes hidden in the islands. "They are connected to the sea through channels and caves," Alexis tells me. "Some are accessible by swimming or snorkelling, others by scuba," he says of this heart-in-mouth adventure. "It is an amazing experience, and we know some of the most secret ones to explore".
The diving experiences in Palau seem endless. Rip-roaring drift dives, wall dives once declared the best in the world by Jacques Cousteau, and even blackwater dives. "Blackwater dives are night dives with a difference" Alexis explains. "Imagine being suspended off the boat by a rope 8 miles offshore in the pitch black…that's black water diving. You see the tiniest of ocean species, it's absolutely fascinating. And knowing there are 1,000 metres of darkness below you is pretty adrenaline-fuelling too."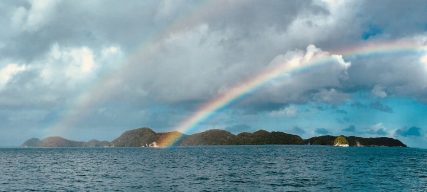 Throughout our conversation, I get the impression that Alexis and his team of Dive Butlers worked closely with local diving experts to maximise the experience they offered to their guests. "The local dive guides are extremely knowledgeable," says Alexis, "and together we can offer the impeccable quality, attention to detail and service of Dive Butler, combined with the local knowledge of Palauan dive guides."
"Palau is an outstanding diving location, very hard to beat," Alexis says matter-of-factly. "The distances aren't very far (it is a small country) but if you explore it by superyacht you are automatically 1,000 times better off than basing yourself on Koror". The reason? The freedom to dive whenever you choose, those early morning rendezvous with spawning parrotfish, or the total absorption in nature explains Alexis. Will you go back? I asked my last question pointlessly, knowing the answer. "In a heartbeat" Alexis replied, just as quickly.
---