Experiencing the Thrill of a Personal Submersible Dive
By Barbara Cesario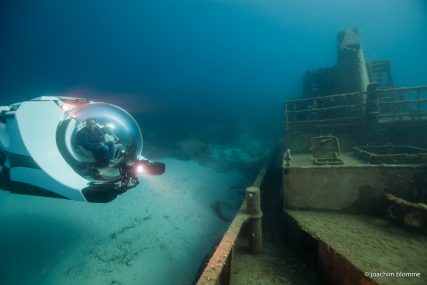 U-Boat Worx invited Dive Butler to experience some of the fascinating shipwrecks around Malta in their Super Yacht Sub 3 Submersible. I was lucky enough, and very excited, to enjoy this opportunity and share an impression of the feeling of submersible diving. Spoiler – it's amazing!
Cruising on the M/V Alk we were fortunate to have fantastic weather with calm seas that promised good visibility. Leaving St Julian's bay we headed to two dive sites – The Imperial Eagle and P29 Patrol Boat. Arriving at our first site the crew briefed us and we had our first close-up look of the submersible.  The Super Yacht Sub 3 is a compact private submarine; the lightweight model delivers both performance and luxury all encapsulated in an attractive and safe clear shell, reminding me of a bubble. This was a welcome impression, completely different to how I thought a sub would be – tiny, airless and uncomfortable. The fun was just about to begin; to access the sub you need to slide down the side, easy enough to do, and then you sit in sumptuous chairs in an air-conditioned environment with variable airflow adjustable from each seat for a piece of personal comfort. Aimed at the Super Yacht market where an ever-growing number of seaboard owners are discovering the world below the waterline, it doesn't look or feel like a submarine but a luxurious lounge with a 360 degree aquarium. Designed for 2 guests + 1 pilot the overall experience is very different to scuba-diving, here you just sit, relax, listen to music and enjoy the show. Whilst I won't be giving up scuba-diving, I really enjoyed the sensation and the opportunity to stay for hours discovering the secrets of the deep.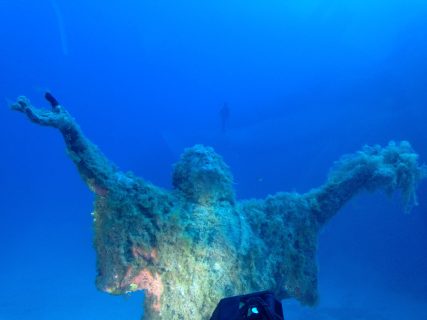 The Imperial Eagle and Christ statue
Location: Just off Qawra Point, Malta
Description: Gozo Ferry
Length: 43 meters (141 feet)
Depth: 42 meters to the sea floor (138 feet)
Visibility: 20 meters (65 feet)
The Imperial Eagle carried approximately 70 passengers and 10 cars, making its maiden voyage in 1958 and taken out of commission in 1968. Her claim to fame is being the sister ship to Jacques Cousteau's 'Calypso'. Like so many of the wrecks in Malta, the Imperial Eagle sits upright on the sand looking fantastic. We toured around her and on top of her. We then left the wreck and headed to a magnificent statue of Jesus Christ. Apparently the statue was blessed by Pope John Paul in 1990 and placed on the seabed to protect the fishermen of Malta.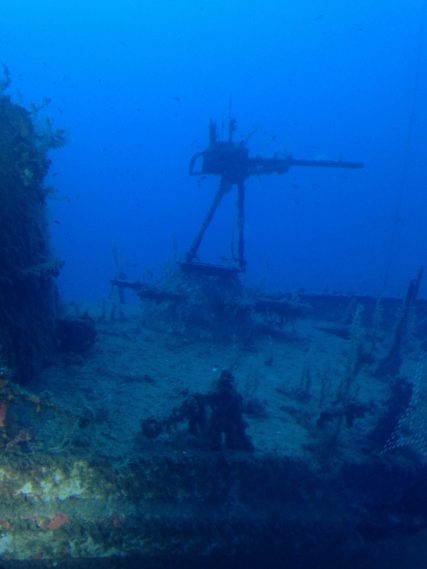 P29 Patrol Boat 
Location: Cirkewwa, Malta
Description: Kondor class patrol boat
Length: 51 meters (167 feet)
Depth: 33 meters to the sea floor (108 feet)
Visibility: 20 meters (65 feet)
P29 is one of the wrecks in Cirkewwa, Malta. This area is one of the most popular areas of Malta for scuba diving, a place where divers of all levels can find suitable dive. The P29 is a 51 meter Kondor class patrol boat that was purposefully scuttled on 14 August 2007 for divers and as an artificial reef to encourage the fish population to grow. The 51-metre ship was built by Peenewerft shipyard as a minesweeper for the East German navy and later served with the Armed Forces of Malta as a boarder control patrol boat. Both engines were removed and all contaminates were stripped from the entire ship for environmental safety before sinking. Interesting sights on the wreck include the machine gun aft, the radar tower, the bridge and the cargo holds. We saw a lone amber jack and baby triggerfishes who seemed to be playing just to amuse us.
A big thank you goes to the entire team of U-Boat Worx for the invite, amazing crew, Bert and Erik and huge thank you to the pilot Lex.
---