Maldives Series Part 1- Serene Beauty Above and Below the Waves in Baa Atoll
Spanning more than 56,000 square miles of Indian Ocean, the Maldives' 1,200 (mostly uninhabited) islands create one of the richest and most diverse cruising grounds for superyachts anywhere in the world.
The scuba diving possibilities are endless, with the pristine reefs, great drop offs and low-lying atolls offering divers encounters with marine life big and small. Yet with such vast choice it can be difficult to know where visitors should begin their undersea adventures. That's where Dive Butler comes in.
With their intimate and expert knowledge of the region, Dive Butler tailors luxury diving experiences for superyacht guests, crafting itineraries to suit their interests and ability levels. As part of this series on the Maldives, we take a closer look at some of the very best atolls for superyachts, and the adventures which await.
Baa Atoll
Powdery white sand beaches overhung with palm trees sway lazily in the warm breeze. Welcome to Baa Atoll, a tropical paradise island rising from the gin-clear waters of the Indian Ocean – and a place where yachts and their guests are welcomed with open arms.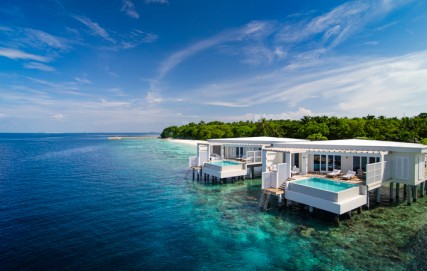 Sitting atop the Maldives' vast ridge, which runs almost 600 miles beneath the ocean, the 75 miniscule islets here are home to centuries-old traditions and ultra-luxury resorts; stilted, palm-thatched bungalows jutting enticingly into the sea. At your request Dive Butler can liaise with exclusive resorts such as such as Amilla Fushi and Finolhu which are otherwise not accessible to superyachts. The atoll is a UNESCO Biosphere Reserve, with its 450 square miles noted for its sustainable development based on local community efforts and marine science.
Baa Atoll is world-renowned for its rich coral gardens bursting with colour. Soft corals of blues, pinks, yellows and greens nestle into vast overhangs alongside whip corals, deep red sponges and black coral bushes. Schools of iridescent fish create a carnival-like atmosphere to delight divers of all abilities. Snapper and bigeye, jacks and grunts pour over the reef in their hundreds, joined by shimmering orange baslets and lazy turtles (of the world's seven turtle species, five can be found here).
Under the clear waters, where temperatures remain a balmy 28 degrees throughout the year, divers can explore serene wall dives, soar along channels and explore thilas (an inner atoll reef). And for those who long to meet the gentle giants of the undersea world, Baa Atoll is one of the best places to encounter manta rays and grey reef sharks.
Baa Atoll's Hanifaru Lagoon welcomes manta migrations up to 100 strong, and a rich soup of plankton provides fodder for the mass feeding sessions. These enormous yet harmless creatures congregate during the south-west monsoon season between May and November. For superyachts arriving in Baa Atoll over December, when weather conditions are more favourable, manta rays make frequent appearances at the pinnacle of Dhonfanu Thila. Meanwhile, new dive sites, unknown to most, reveal great shoals of grey reef sharks during the high season months. Allow Dive Butler to guide your owners and their guests to some of the most magical undersea experiences imaginable.
Baa Atoll offers yacht divers a choice of more than 30 incredible dive sites, varying in experience level from beginner to intermediate. Dive Butler's dedicated and passionate guides can plan detailed dive itineraries, tailoring it to the skill levels and wishes of the divers. We can assist in the logistics, planning and execution of even the most complex of dive adventures, helping you transform your yacht into a luxurious dive operation for your guests and offering a personal diving experience where every last detail is considered and guest's needs are intuitively anticipated.
SaveSave
SaveSave
SaveSave
---