Tec Diving with Benoit Capitaine
DBI is now able to propose you to learn more about technical diving as well as the possibility to enjoy the many benefits of Rebreather diving all this with the personal attention and excellent quality equipment that you can expect from us. If you want to develop your personal knowledge and understanding of Scuba diving to increase your comfort and safety then tech diving is for you. If you want to push your limits in a safe and controlled manner, explore previously unreachable dive spots then tech diving is for you. And the best news is: it's easy and everybody can do it! Some of the courses that we are offering are:
The new Recreational, full automatic, electronically controlled Closed Circuit Rebreather (R-eCCR) Poseidon Mark 6 Discovery will allow you to stay down for up to 3 hours enjoying your preferred dive site without to worry about running out of air or having to do long decompressions.
We also offer alternative modes of diving such a Sidemount which gives a great sense of freedom, streamline and relieve the strain of carrying a bulky dive tank on your back.
For those of you who like to spend a bit longer down there but want to remain safe and not exhausted after the dives, give the Advanced Nitrox course a go (PADI Tec40-45). You will see, it's better than Nitrox!
DBI is now able to offer these courses with the exceptional level of personal service that you have come to expect from us, with very experienced technical instructors that are not Army Drill Sergeants.
Contact us for more information. PADI Courses proposed are: Sidemount, Tec Sidemount, Self Reliant diver, CCR Diver and Advanced Diver, Tec 40, 45 and 50 Diver.
More advanced levels and private guide or technician services are also available for private yachts. Let the tec take care of your rebreathers setup and maintenance and simply enjoy using it!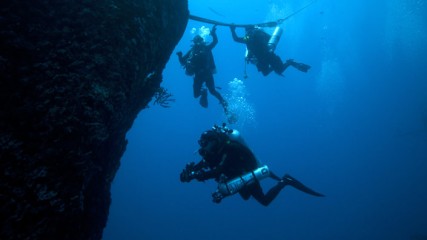 ---