New Staff Joining DBI
We are please to introduce and welcome our latest specialist instructors to the DBI team. Joining the team are Kirsten Ball, Mark Rea, Lubi Kocheleva and Ellie Jones.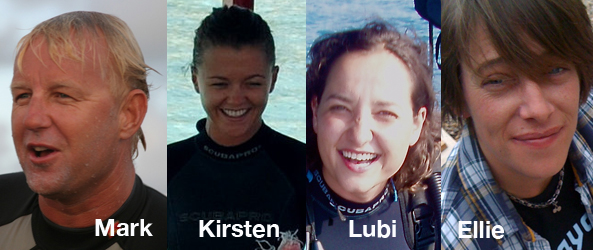 As with all things DBI they each bring something unique to our ever growing team.
Mark is one of the most experienced instructors available, specialising in Nitrox, Night, Navigation, Wreck and Drift diving.
Kirsten brings something different to the table, not only is she an Open Water Scuba Instructor she is also a specialist Pilates (Stott) & Latin Dancing instructor and a Personal Trainer to boot.
Lubi is our Russian instructor and camera wizz, along with being an Open Water Scuba Instructor she also teaches under water photography, videography and editing or she can just film and edit your dive of a lifetime for memories that will last.
We also welcome Ellie Jones who has joined DBI as our Sales & Marketing Director. Although a novice to the diving world, she brings a fresh take on how to push DBI forward due to her many years of experience in business development on dry land.
---