Meet the Giants of the Deep in Ari Atoll
Maldives Series Part 3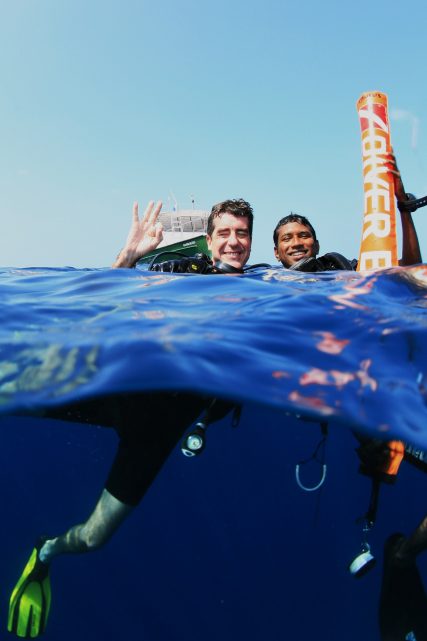 When it comes to superyacht destinations, few places on the planet can compete with the Maldives. The country is a maze of tiny, low-lying islets spread right across the Indian Ocean, creating the perfect playground for superyacht owners and charters in search of a true tropical paradise and some of the world's best scuba diving. With 1,000 of the country's 1,200 islands uninhabited, superyacht guests can venture to ever more exotic and far flung corners of the country and explore rarely dived sites.
Dive Butler is a guiding hand to captains and charter agents, crafting bespoke packages and leading yacht guests on underwater adventures to rival all others. Allow our butlers to join you on board and share their passion and profound knowledge with guests. Many are local Maldivians, and their pride in their country and its marine ecosystem bring an unparalleled magic to a dive expedition. Here we take an in-depth look at the world-renowned Ari Atoll and the adventures which await under the surface.
Ari Atoll
Ari Atoll is the second largest Atoll in the Maldives at around 25 miles long. Scattered across it are 105 islands where, just beneath the surface, some of the ocean's largest creatures congregate. Ari Atoll is the place to come to dive with gargantuan whale sharks, manta rays and hammerheads. Indeed, sightings of large pelagics are almost guaranteed.
Unlike other atolls, Ari Atoll is known not for its coral reefs but for its alluring thilas, or submerged pinnacles. Teeming with large pelagics, this is bucket-list scuba diving at its finest. Divers can enter the deep waters here and be surrounded by vast schools of hammerhead sharks, or great gatherings of grey reef sharks. The pinnacle at Maaya Thila stands as one of the Maldives' most acclaimed dive sites. The sheer variety of marine life here is staggering, where seemingly endless ribbons of fusiliers swim by, elegant batfish join the melee, and colourful nudibranchs and giant frogfish vie for attention from the Napoleon wrasse, grouper, eagle rays and rare guitar shark.
Magnificent Whale Sharks
To swim alongside a whaleshark, an animal the size of a small bus, is a humbling and profoundly moving experience. Superyachts, with their ability to traverse the scattered islets of Ari Atoll, can go in search of these genial behemoths accompanied by experienced Dive Butler guides. While they can be spotted throughout the atoll, the plankton-rich waters at Maamigili at the far southern tip are a magnet for the largest fish in the ocean.
No trip to Ari Atoll would be complete without meeting the soaring manta rays. From December through to April they grace the warm waters, flying along strong currents at top dive sites such as Ulkulhas Thila. Expertise is required but, guided by Dive Butler's experienced and knowledgeable instructors, guests can witness these elegant creatures up close at a cleaning station.
Ari Atoll offers some of the finest diving in the Maldives. Together with your Dive Butler guide, create a bespoke itinerary for your superyacht owner or charterer and provide them with a scuba diving experience which will last in their memories for years to come. Tap into the unparalleled local expertise of the guides and head ashore. They can arrange everything from unforgettable traditional experiences to luxury trips to deserted islands.
---